The Celebration of Summerween 
is the 22nd meeting of
the Royal Order of the Holy Mackerel
.
This time, Douglas MacKrell discusses the celebration of Summerween.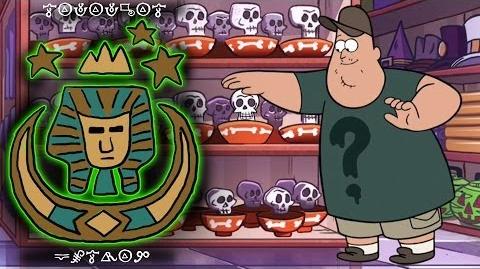 Summerween. The mysterious holiday celebrated by the townsfolk of Gravity Falls every June 22nd. Though it's mysterious origins have not yet been revealed, it's safe to assume that the holiday was the fevered creation of either Quentin Trembley or Nathaniel Northwest.
There are two important things to know about Summerween. First is that both Dipper and Mabel have never heard of Summerween before. This means that the celebration is localized to Gravity Falls and no one else celebrates or even knows about it.
Secondly is that Summerween is very well respected and observed. So much so in fact that a whole seasonal Summerween Superstore is supported by the town's economy!
If Summerween is as remote and removed from the rest of the world AND is so loudly and proudly honored by the townsfolk – it means that Gravity Falls has no neighboring cities or towns. We know that Gravity Falls exists within a ravine and is surrounded by thick forests and high canyon walls – so this could mean that Gravity Falls is even more remote than we thought!
We can also extrapolate that Summerween is a tip of the hat to Matt Chapman's body of work – namely, Homestar Runner. Homestarrunner.com is a formerly active website of browser games and flash cartoons featuring a vast array of characters. Notably, these characters celebrated two holidays annually – Halloween and Decemberween. The latter being a christmas-like holiday of gift giving but devoid of denomination.
Summerween may be an homage to Decemberween and a way for Alex Hirsch to pay tribute to a man he's a huge fan of.
This was the 22nd meeting of the Royal Order. Coincidentally, Summerween takes place on June 22nd.
Cryptogram
Edit
The Codes on the Thumbnail are in Alchemy Font Cipher and translate to REMEMBER GORNEY.
Ad blocker interference detected!
Wikia is a free-to-use site that makes money from advertising. We have a modified experience for viewers using ad blockers

Wikia is not accessible if you've made further modifications. Remove the custom ad blocker rule(s) and the page will load as expected.